Medieval Musical Treasures Concert
Date: Monday, 21 November, 2022
Location: The Thomas Fisher Rare Book Library (120 St George St at Harbord St)
Time: 7:30 p.m. and 9:00 p.m.
Price: FREE!
Concert is free, but seating is limited, so there's an option of securing tickets in advance here.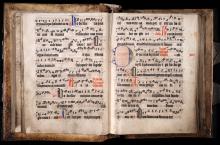 The Toronto Consort, directed by Katherine Hill, will be presenting a free concert of medieval music at the Fisher Rare Book Library , which is currently featuring an exhibition of its medieval manuscript collection. There will be performances at 7:30 and 9 p.m., accompanied by a short introduction to music manuscripts in the middle ages, given by Professor John Haines. The exhibition, open to the public until December 20th, is being co-curated by Fr. PJ Carefoote (S. George's on the Hill & S. Olave's). Please be welcome to this special event that highlights some of Toronto's splendid medieval treasures!
Medieval Musical Treasures