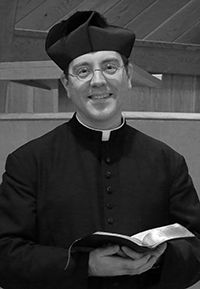 The Reverend Dr Walter Hannam
Vicar, S. Bartholomew's Anglican Church, Regent Park
Associate Priest, The Cathedral Church of S. James, Toronto
A native of Nova Scotia's Annapolis Valley, Father Hannam held the chair of Theology and Anglican Studies at the College of Emmanuel and S. Chad in Saskatoon, Saskatchewan for seven years before his appointment at S. James Cathedral and S. Bart's. He holds degrees from the University of King's College (B.A. Classics, Philosophy), Dalhousie University (M.A. Classical and Patristic Philosophy), and Boston College (Ph.D. Theology). Father Hannam was made Deacon and ordained to the Sacred Priesthood in the Diocese of Saskatchewan, where he served as Chaplain of S. Mary's Church, Prince Albert; he also served as Honorary Assistant at All Saints' Parish in the Diocese of Saskatoon. Father Hannam is married to Sarah, a professional librarian.
---
Katherine Hill
Choir Director, S. Bartholomew's Anglican Church, Regent Park
Katherine Hill enjoyed an early education in Anglican church music with Catherine Palmer (a student of Healey Willan's), at Yorkminster Park Baptist Church, Toronto. This early influence led to a lifelong interest in early European text and music, both sacred and secular, and Katherine now maintains a freelance career as a performer with early music groups here in Canada, Belgium, the Netherlands, Germany and Italy. She is also a graduate of the University of Toronto's Centre for Medieval Studies, where she researched the presence of the oldest forms of Western musical notation in Old Saxon Gospel poetry.
Since 2003, Katherine has been particularly interested in music from medieval convents and women's religious communities, and has researched and directed concert performances of this repertoire in Amsterdam, Calgary and Toronto. She sings regularly in the series Sacred Music in a Sacred Space at Trinity College Chapel.
---
Thomas McCallum
Lay Pastoral Associate for Young Adult Ministry
Hailing from Six Mile Brook, Nova Scotia, Thomas McCallum, BAH, (Vind) was initially intrigued by Anglican spirituality while singing with the University of King's College Chapel Choir in Halifax. As a student, he served as president of the S. Thomas Aquinas Society, organized the King's Chapel Concert Series, and led a mission trip to Trinity Church, Saint John, NB, an area with noted similarities to Regent Park. Under the guidance of chaplain, the Rev'd Dr. Gary Thorne, Thomas had the opportunity to live and study with several priests across the Maritimes and worked with a team of King's students supplying ministry to the Parish of Port Williams, NS. Moving to Toronto in 2017, Thomas was music director at All Saints Church-Community Centre (Dundas & Sherbourne) from 2019 until 2021, building a music programme based on making the Anglican tradition accessible to Toronto's most disenfranchised. In summer 2021 he traveled in northern Saskatchewan, musically encouraging parishes through his integration of folk guitar methods with traditional hymnody. This included a day on James Smith Cree Nation, where Cree and English are sung concurrently.
Thomas is interested in enriching the Anglican offices through plainchant, especially the use of the Canadian Psalter. Recently, he has delved into how the natural world informs and enriches the Christian tradition, particularly our relationship with birds. As a singer-songwriter, he has toured extensively in eastern Canada, and released the album Many A Long Hour in 2021.
---
Louis Harris
Lay Pastoral Associate for Youth Ministry
Louis was born in Cowansville, Quebec and is the son of an Anglican priest. He moved to England when he was 15 and moved back 3 years later to live on his own and study computer science at the University of Prince Edward Island. While there, he was exposed to many of the spiritual needs of his generation – drug addiction, mental ill-health, and the need for faith amid hopelessness. Subsequently, he returned to England to work as an intern at Pusey House, the chaplaincy to the University of Oxford, to learn about faith and worship in a community of young Christians. Today, he makes pizza at a local pizzeria called Salt and Tobacco and is studying the Master of Divinity program at the University of Toronto, all while striving to serve the parish of St Bartholomew's and the community in Regent Park.
---