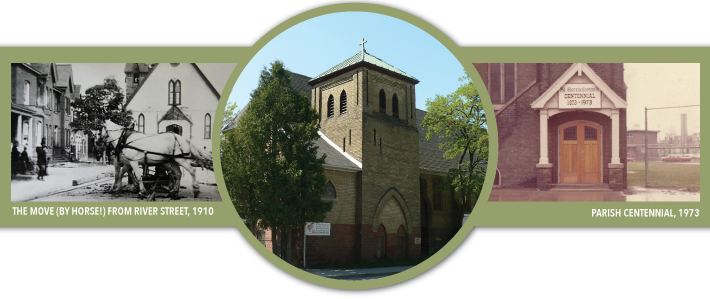 LIVING FAITH & STEADFAST LOVE SINCE 1873
Much has changed since our parish was founded in 1873. Our world has been through a Great Depression, two World Wars, and two Global Pandemics. Our neighbourhood has been through two redevelopments. What hasn't changed? Sacrificial Love.
---
St Bartholomew's Anglican Parish Church, affectionately known as St Bart's, was founded in 1873 on the west bank of the Don River at the bottom of Wilton Avenue. In 1910, it was physically moved to its present location. Unlike most Anglican churches at the time, St Bart's was not founded by a wealthy benefactor. Instead it was the Anglican citizens within its parish boundaries who worked hard to pay for the land and the construction of the church. This background had a lasting effect on our church.
St Bart's is an Anglo-Catholic parish that follows the Canadian Book of Common Prayer. Its worship life is highly traditional and pious, augmented by a rich music ministry through the able talents of our organist and through the exceptional leadership of our choir director. The parish has a rich legacy of traditional worship and is one of the very few churches left in the Toronto area where you can experience church life as it has been historically.
The parish demographics of St Bart's has posed unique challenges since the fifties, when the area was rebuilt to house the poor. Over the decades that followed St Bart's rose to the challenge of responding to the needs in the community in a number of ways: through a food bank, a breakfast program, and a Christmas hamper program, each serving thousands of people annually. The parish also opened a Children's Program to encourage the development of children after school. All of these activities and more were funded by generous donations of parishioners and friends of St Bart's.
Today the parish faces new challenges and opportunities as the Regent Park community undergoes a new phase of development. We warmly welcome you to come for a visit, and to experience for yourself the ongoing ministries of worship and outreach that have come to define St Bart's over the years.