Sunday, 4 April: EASTER DAY
9:00 a.m. Low Mass (Church Open, Pre-Register)
11:00 a.m. Low Mass (Church Open, Pre-Register, YouTube)
Download leaflet
The Easter Day services will be streamed online. There is also limited space available for in-person attendance at both services. Pre-registration is required.
---
Prelude: II. Largo, ma non tanto (Concerto for 2 Violins in D minor, BWV 1043) – J.S. Bach
Sequence: Victimæ paschali laudes
Motet: This joyful Eastertide – Dutch carol (1685)
Postlude: II. Allegro, ma non presto (Trio Sonata in B-Flat Major, Op. 5, No. 7, HWV 402) – G.F. Handel
---
Guest Musicians
Adrian Irvine, Violinist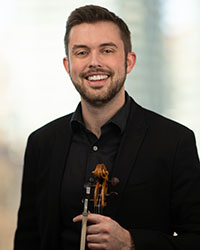 Adrian Irvine works as a freelance violinist, music producer, and violin instructor in Toronto, Canada and surrounding areas. He received his Master's in Violin from the University of Toronto where he studied with Erika Raum and performed as Concertmaster with the U of T Symphony Orchestra in select programs. Adrian's undergraduate studies in violin took place at the Memorial University of Newfoundland with Dr. Nancy Dahn. While at MUN, he received a minor in composition for his studies with Dr. Andrew Staniland and Dr. Clark Ross.
Prior to the COVID-19 lockdowns, Adrian performed regularly with ensembles throughout southern Ontario including the National Academy Orchestra, the Mandle Philharmonic, the Niagara Symphony, and the Freesound Collective, amongst others. He can be heard on recordings for Centre Disks, Universal Music Mena, and Paper Bag Records along with releases from independent artists spanning genres from hip-hop to folk. In 2018 the premiere recording of Bekah Simm's Granitic, on which Adrian played violin, was nominated for a JUNO award. For more information, and a full list of performance and production credits, visit musicbyai.ca.
Jamie Godber, Violinist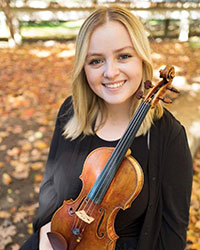 Jamie Godber holds a Master of Music degree in Violin Performance from the University of Toronto where she studied with Dr. Timothy Ying, former first violinist of the Ying String Quartet. Jamie has led the University of Toronto Symphony and Opera Orchestras as Concertmaster, and in the Fall of 2019 was invited to lead the Tartini Conservatory Chamber Orchestra in the Pordenone Silent Film Festival in Italy. She is a recipient of the Oakville Symphony Young Artist Award and during her undergraduate studies at U of T with Annalee Patipatanakoon, Jamie's string quartet received the Felix Galimir Chamber Award and first prize of the Haydn String Quartet Challenge. She has performed in masterclasses for the Juilliard and St. Lawrence String Quartets, Jonathan Crow, Andrew Wan and Axel Strauss, among others. She currently freelances throughout southern Ontario and enjoys teaching in her private studio and at the Upper Beaches Music School in East Toronto.